健康展覽2020 – 精神抖搜 | Health Exhibition 2020 – Know Your Psych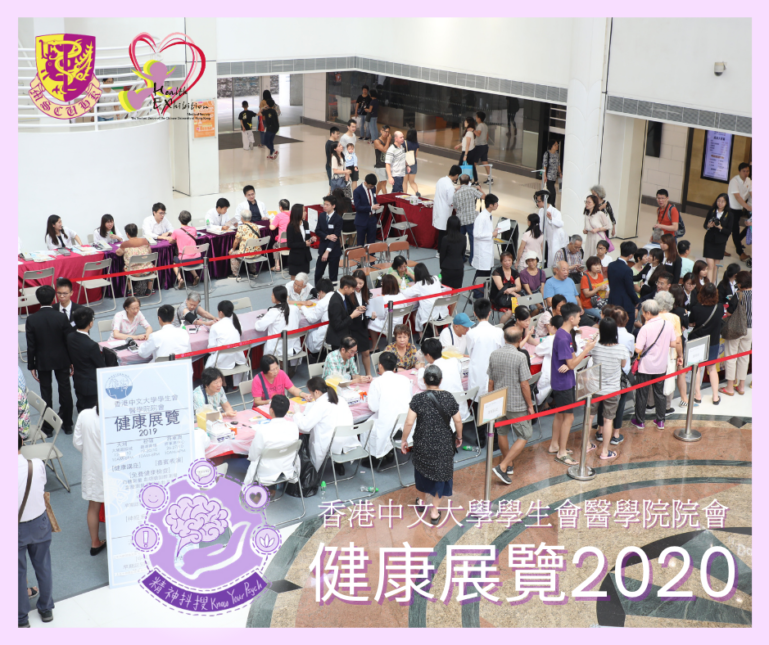 時光飛逝,距離上屆健康展覽已過了一年。往年,醫學生透過參與健康檢查、諮詢等,在一連三個週末的健康展覽為大眾服務。 然而,本年因新冠疫情影響,我們的健康展覽只好改變形式,大部分活動將會改於網上進行,以保障市民健康,遵守醫學生的宗旨 。
我們本年度的健康展覽主題為「精神抖搜」,向大眾傳達有關精神健康的資訊。香港生活節奏快,而且壓力十分大,精神健康問題卻一直未受關注。過去幾年,社會運動令市民更加關注精神問題,但大部分人對自己的精神健康仍然一無所知。
另外,2020年新冠病毒大流行,導致世界多個城市執行隔離政策,香港亦不能倖免。市民無法進行正常社交活動,長期逗留家中。調查發現,在疫情期間香港患抑鬱症或焦慮症的人數皆有上升跡象。因此,我們衷心希望能在這艱鉅的一年支持大家,讓市民更了解自己的精神狀況,然後採取適當的解決方法,而非對問題視而不見。
Time flies, and it has almost been a year since our last update. The previous year was filled with ups and downs, challenges and obstacles. Under the COVID-19 pandemic, Health Exhibition 2020 has also been forced to deviate from the norm. In previous years, our medical students take pride in serving the public by conducting basic health checks and counselling services over several weekends every fall in various malls in Hong Kong. Unfortunately, face-to-face activities are simply too risky to be held, and it would be contradictory to public health principles that we as medical students should uphold and promote.
Still, under such difficult circumstances, we have pushed through with Health Exhibition 2020 – Know Your Psych. As you may be able to tell from the topic, our theme this year is psychiatry. Psychiatry and mental health, especially in a fast-paced society such as Hong Kong, have long been a serious issue but it has not received the most attention compared to other health concerns. Over the past years, social events had led the public to pay more attention to psychiatric conditions, but a lot of people remain unaware of their own psychiatric health.
In 2020, the world has been hit by the novel coronavirus. Lockdowns and quarantines were, and still are, being practiced everywhere throughout the world. Despite the fact that the pandemic is not the most severe in Hong Kong, social distancing rules and work from home practices meant a lot of Hongkongers were unable to socialise as frequently as before. Researches have found that the Hong Kong population have seen an increase in depression and anxiety cases, under the COVID-19 pandemic. As a result, we thought psychiatry is definitely the go-to topic which corresponds to people's lives.
The topic, "Know Your Psych", encourages people to take time to assess their own psychiatric health. Most people with mild psychiatric conditions may not even be aware of such issues, and can live their daily lives just as normally. However, it does not mean that this is sustainable in the long run. We hope to promote psychiatry and raise people's awareness about psychiatric health, so that people not only would be more conscious of their mental health, but will become more likely to take actions to improve their situations instead of going about their daily lives just like before. We truly hope we can light a candle of hope in people's hearts in this difficult year.